Theseus

'

Species

Faction
Theseus is the mortal chosen by Zeus to fight the forces of evil, and the mighty champion who defeated the Minotaur. Theseus is considered the son of a whore mother for not being raised or knowing his father, he was raised only by his mother and his teacher, the old man "zeus". He is a skilled warrior that prefers the use of a spear in battle rather than a sword.
Mythology
Edit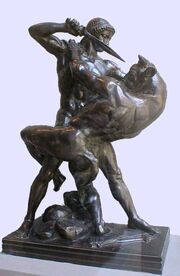 Immortals
Edit
Immortals: Gods n Heroes
Edit
Other appearances
Edit
Equipment
Edit
Ad blocker interference detected!
Wikia is a free-to-use site that makes money from advertising. We have a modified experience for viewers using ad blockers

Wikia is not accessible if you've made further modifications. Remove the custom ad blocker rule(s) and the page will load as expected.